Olav Lundanes from Norway took his second gold medal during WOC 2019 when he won the middle-distance. Sweden's Gustav Bergman had to settle for silver after being overtaken on the last lap.
In similar fashion Magne Dæhli secured a bronze he's been longing for in a tight fight with Sweden's Emil Svensk.
- I learned my lesson at last year's WOC. It was a double victory for me to win today, Lundanes told after the race. Last year he did a rear mistake to drop out of the medal discussion.
- Today I managed really well technically. The terrain was rough, and I pushed to the maximum physically. The spectators gave me energy, and when I heard I had three seconds to catch at the arena passage I made sure not to repeat last year's mistake, Lundanes said with a smile.
He won by 11 seconds over Bergman. Dæhli and Svensk were 29 and 30 seconds behind respectively. The Frenchmen Lucas Basset and Frederic Tranchand were also top 6, 1.01 and 1.51 minutes behind Lundanes.
From the press conference:
- Wednesday, I felt relief. Today I'm just happy. The race was really hard, with a tough course in tough terrain. Technically I performed well, Lundanes summed up. He enjoyed the part from control 3 to 16 best, with the most pure forest areas.
- I did a good race and didn't feel nervous at all as I waited for Olav. I felt that if Olav beat me now, he deserves the gold medal. My route choice towards the arena came out lucky and gave me a three seconds lead, but then I had a route choice on the second lap that came out less lucky. Olav also ran much faster, Gustav Bergman said.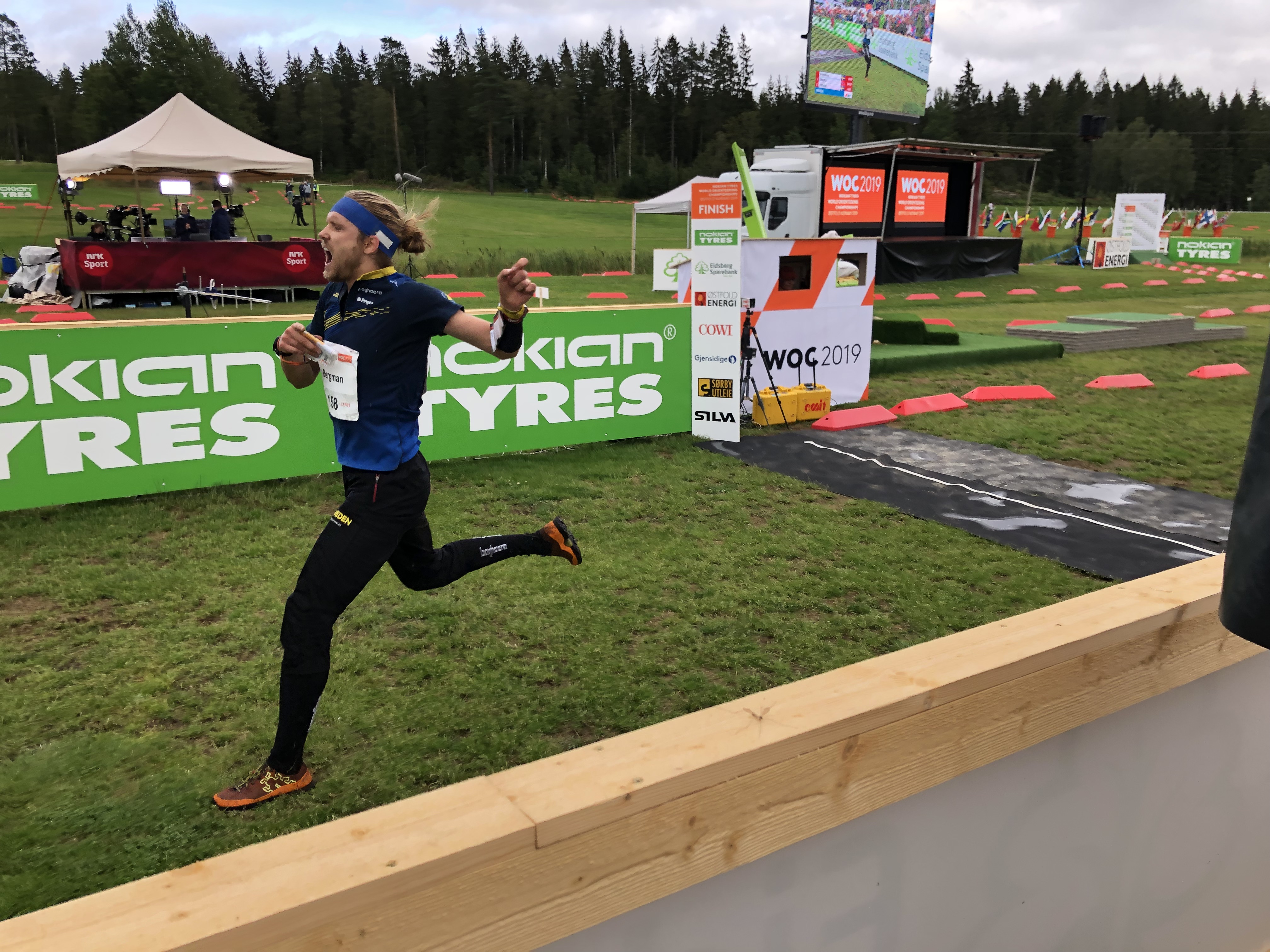 Silver medal to Swedens's Gustav Bergman
The day before the race things didn't look bright for Magne Dæhli:
- I injured myself on Wednesday and was barely able to walk on Thursday. I spend 20 minutes to proceed from walking to jogging. Today I spend the usual 10 minutes to achieve top speed, but the last 25 minutes felt really good.
- You won the bronze by a one second margin?
- I did, and I feel that I deserved to be the one with the margin on my side this time. I'm so happy and have worked so hard over so many years for this medal.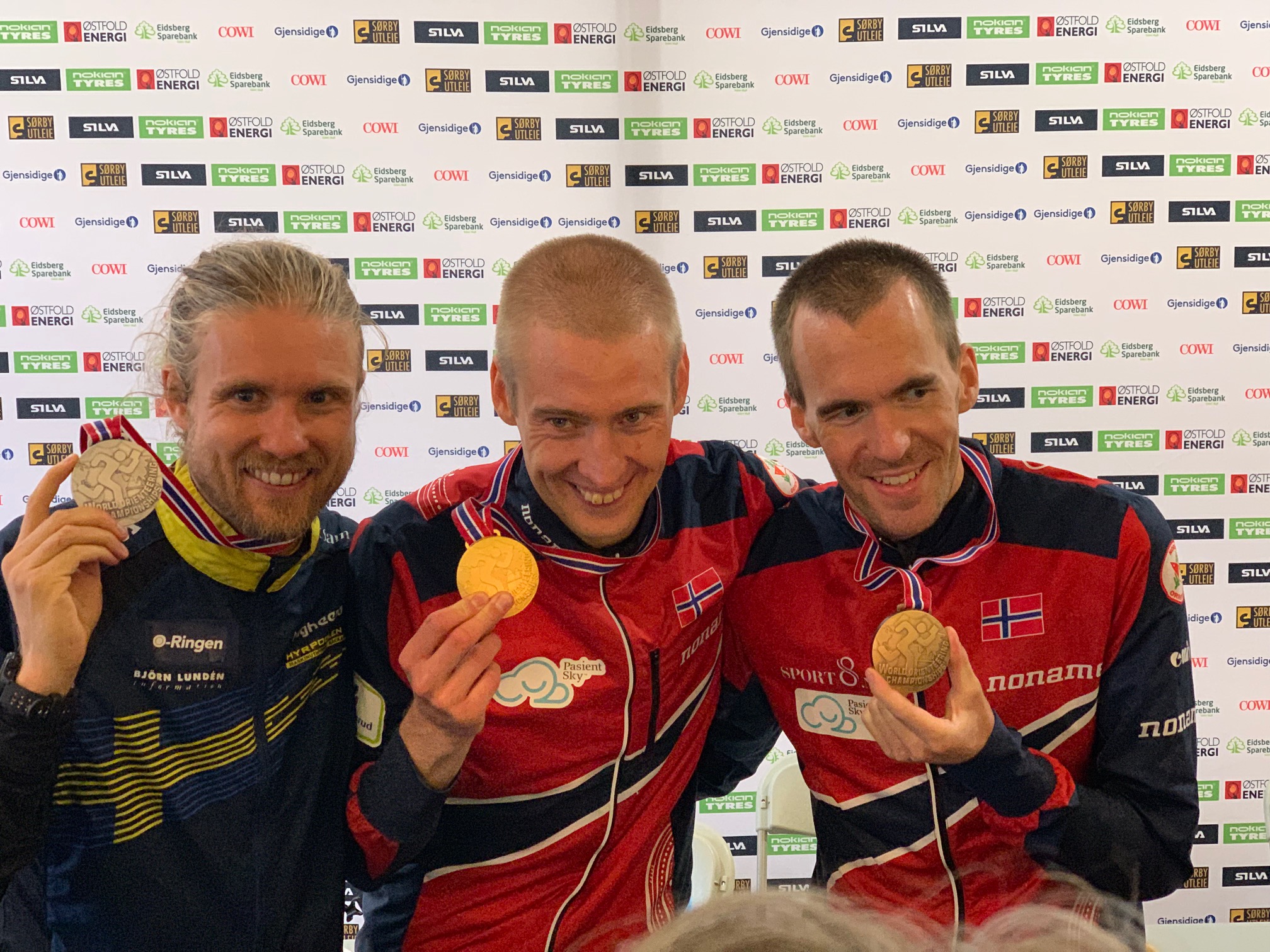 Gustav Bergman, Olav Lundanes and Magne Dæhli
At Saturday's relay Olav Lundanes will attempt taking three gold medals out of three possible at the forest WOC 2019.
- Yes, one race to go now, and I hope there's enough energy left in my head and legs to perform at my very best again tomorrow.
In order to make Olav's dream come true, Magne Dæhli once again will have to be the killer on the last lap.
- Anything less than gold is a disappointment. But it will not be easy. Our past gold medals have been secured by solid performances. We will have to repeat that tomorrow, Dæhli says.
- We thought Dæhli was a bit lucky at some of the wins, but it can't be luck when you decide the relay as many times as he has done, Gustav Bergman said. And initiated the psychological drama for tomorrow's relay.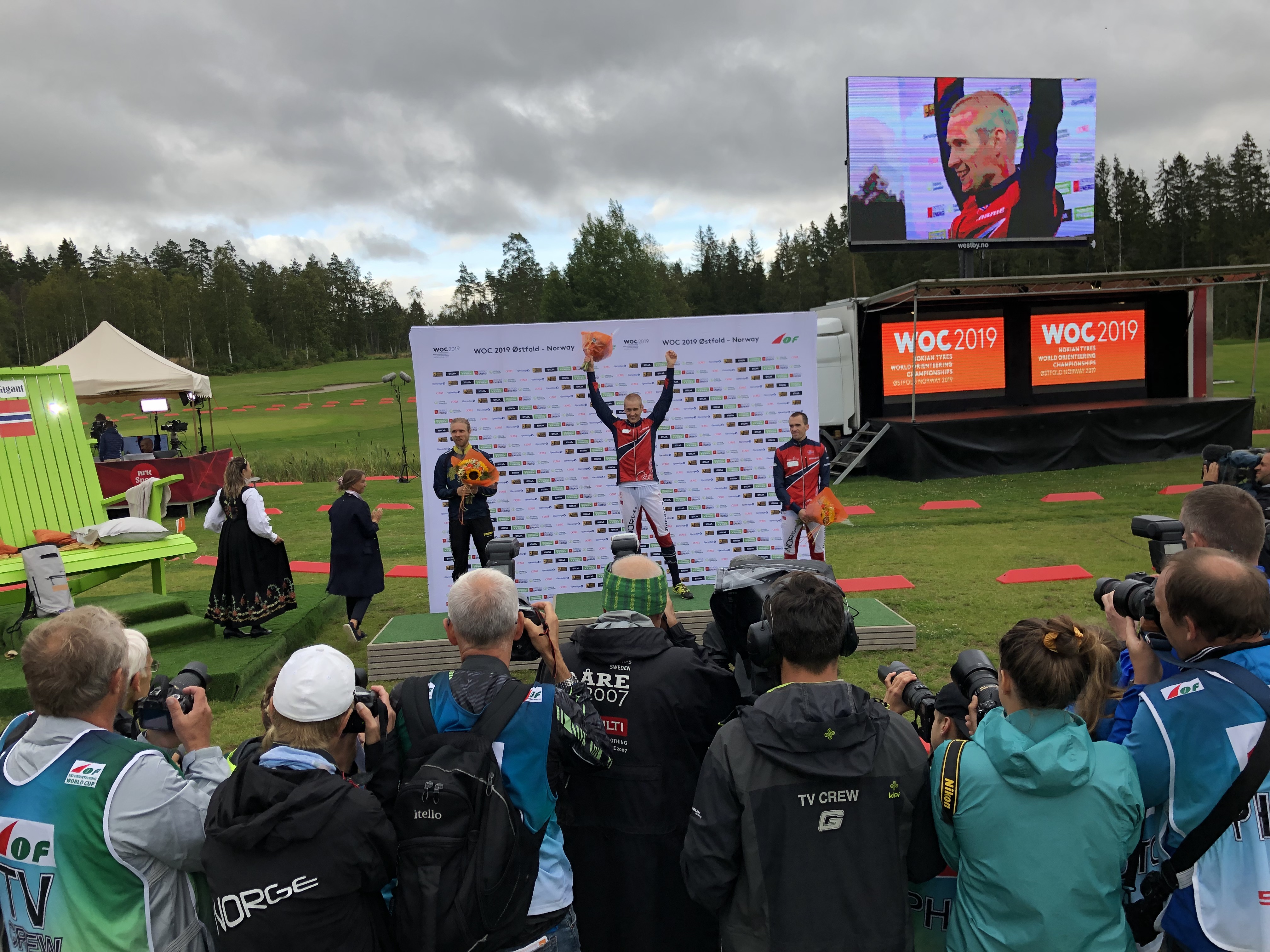 Tove Alexandersson is going for the same triple as Lundanes:
- We have a good team and are looking forward to the relay, Tove said at the press conference.