- In the hills towards the sixth control I realised I'm going to win, Swedish last lap runner Gustav Bergman said after he'd secured gold for Sweden in a thrilling men's relay at WOC 2019's last day.
This also means that the final day was all Sweden's as their women's team won the gold earlier in the evening as well.
Finland took the silver and their first medal in the men's relay for ten years. France defended last year's bronze medals. The Czech Republic came in fourth, and Switzerland in sixth. Norway was disappointed to come in fifth after having won the previous three men's relays in WOC.
At the first changeover there were 13 teams within 16 seconds in front, with Australian Henry McNulty leading the pack, with Finnish Aleksi Niemi behind his back. Reigning champion Norway with Gaute Hallan Steiwer was number 5 and Sweden's Johan Runesson at the back of the field at number 13..
- You focused on joining the field for your lap?
- Yes, my only mission this week was not to fuck it up, Johan Runesson told in the interview.
On the second lap Norway's double gold winner Olav Lundanes blew up the field. Finnish Finske Elias Kuukka managed to keep at a reasonable distance 33 seconds behind. Emil Svensk kept Sweden in the medal fight and changed over in third place, 1.22 behind Norway. France, Switzerland, Czech Republic and Austria were over three minutes behind at this stage.
-I made one small mistake, but the race was very good, Svensk said. He lost the bronze to Magne Dæhli on Friday by one second but can now go home as a world champion.
Emil gave last leg runner Gustav Bergman hope: -You have the short forking on the first lap, Emil shouted at his teammate at the changeover. -So I pushed the gas pedal, and it was nice to see Norway only 15 seconds in front at the arena passage, Bergman told.
- Early on the longer last lap I realised that we will win, as Magne Dæhli was looking over his shoulder and seemed stressful. On the hilltop at control 6 he and the Fin Kiirmula disappeared and I knew I was alone in front.
He ran perfectly for the rest of the course, and only the high fives and celebrations during the home stretch could decrease the leading margin.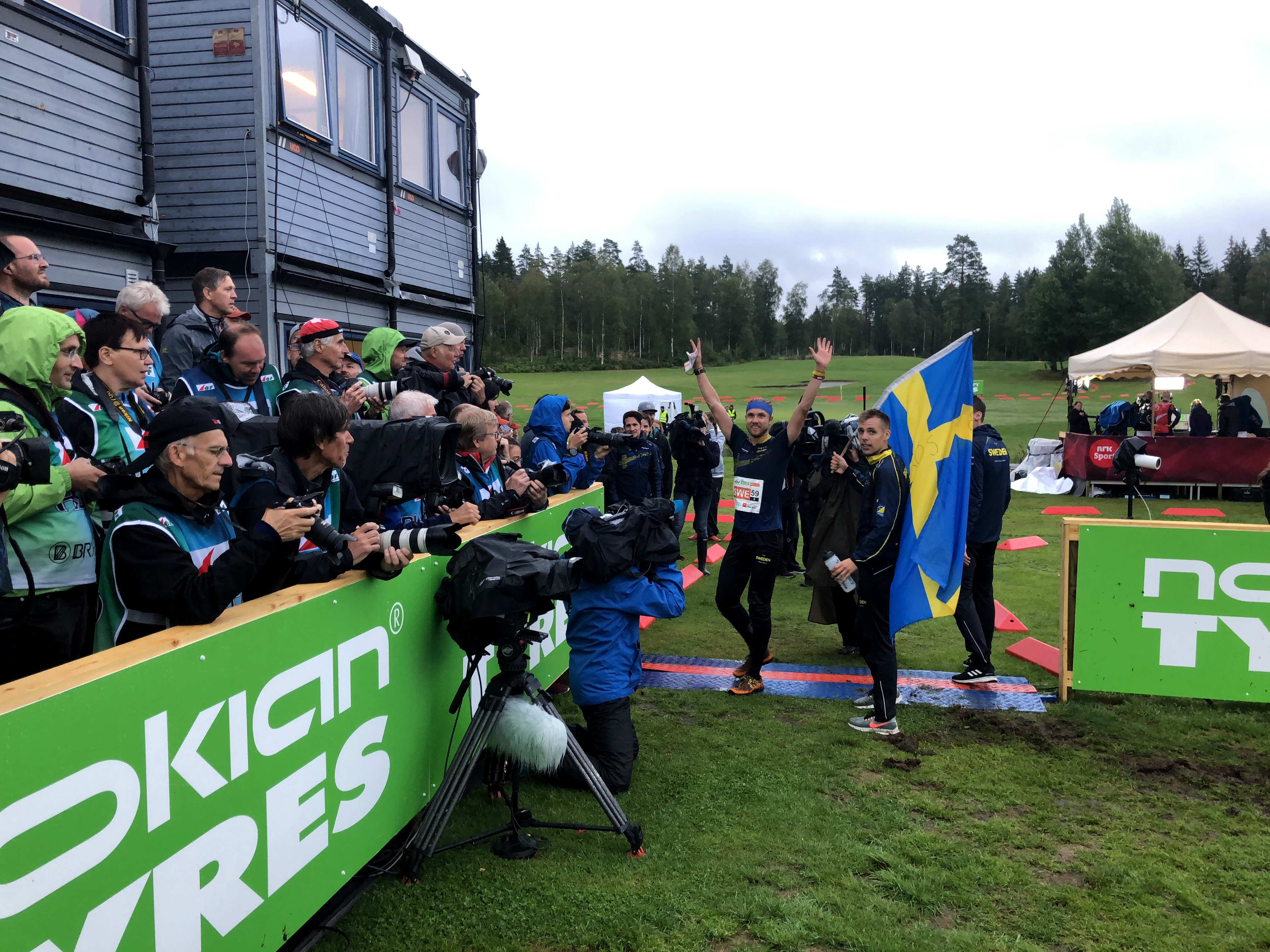 Sweden won the men's relay for the first time since 2014. The official victory margin was 1.34 over Finland, France at 1.43, Czech Republic at 1.50, and Norway at 1.55. Switzerland was half a minute behind early and ended in sixth, 2.43 behind Sweden.