Are you or your club on the lookout for a fair and reasonable accommodation possibility at WOC 2019 in Østfold?

There are a variety of accommodations to choose from, and WOC2019 is starting up extra service concerning this matter in collaboration with Visit Østfold.
WOC2019-camping and school accommodation
Overview
Overview The WOC2019 camping have spaces for caravans/caravan cars at Sarpsborg stadion (Sarpsborg Stadium). Furthermore, we offer a "school hotel" centrally located in Sarpsborg. For those considering sleeping in a tent we will rather recommend you consider accommodation at the "school hotel".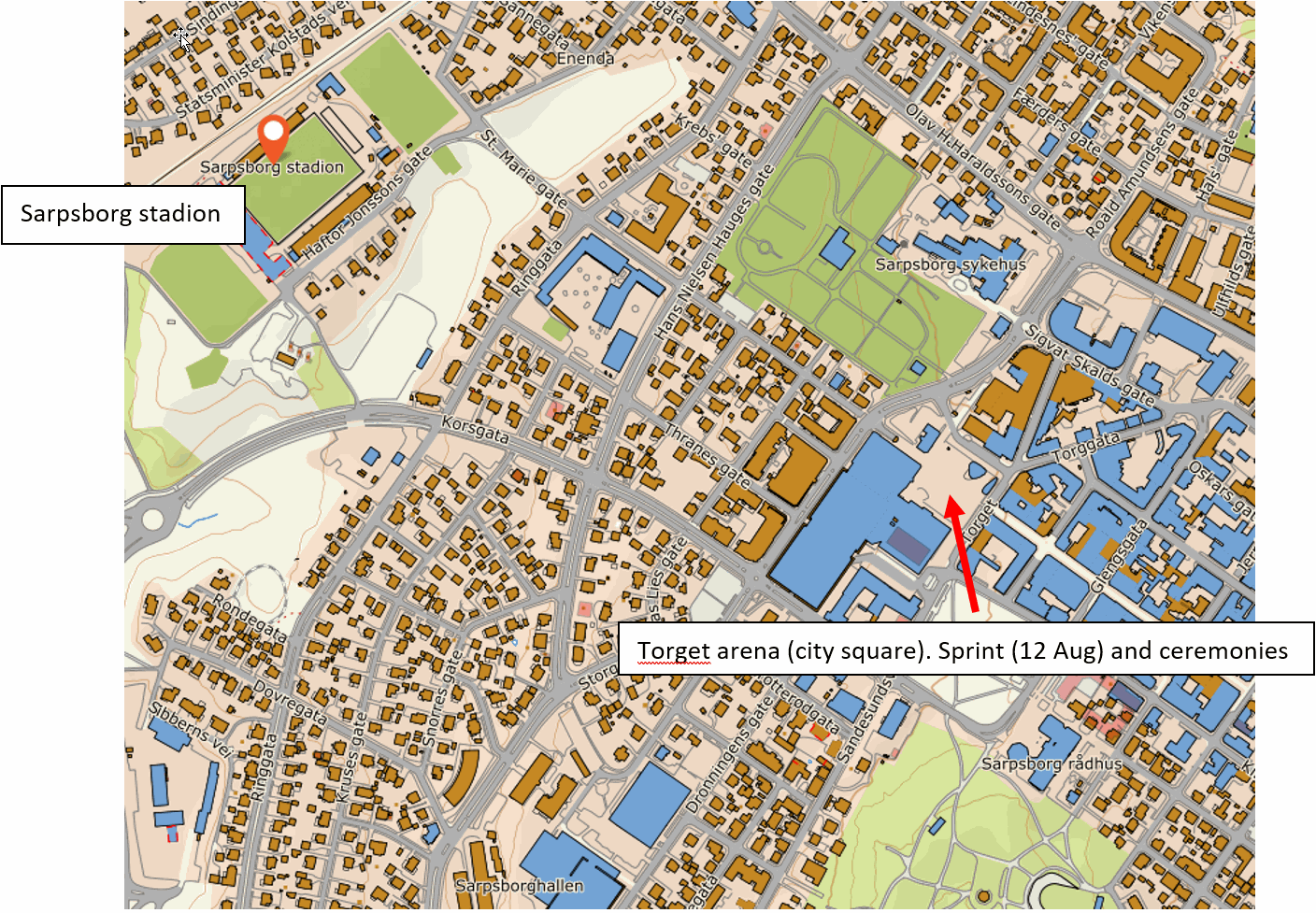 For both options the walking distance will be short to the town centre where the ceremonies will take place throughout the week, as well as being the arena for the spectator sprint on the 12th of August.
There is a variety of restaurants and shopping centres within walking distance.
Access to facilities like showers, toilets and locker rooms both at the camping and the "school hotel".
We offer chartered coaches to the arena at Knatterudfjellet on 13th of August, as well as to all the finals at Mørk (14th, 16th & 17th of August). For the spectator race in Fredrikstad on 15th of August the event will be only a short bus ride away with public transportation.
Bus transportation can be booked separately.
Booking of camping spaces administered by WOC2019
Camping spaces are offered in 2 categories: 9x9m with electricity (50 spaces), and 9x9m without electricity (appx 50 spaces) with a setup like the model used by O-Ringen.
Booking can be done as additional choice to the registration for the first spectator race Eventor.
Camping
| Description space 9x9m | Price |
| --- | --- |
| Full week with electricity (11 – 18 Aug.) | NOK 2800 |
| Half week with electricity (15 – 18 Aug.) | NOK 2000 |
| Full week (11 – 18 Aug.) | NOK 2000 |
| Half week (15 – 18 Aug.) | NOK 1500 |
For larger groups of people
For clubs of at least 30-40 people or groups of at least 10 caravans/caravan cars we recommend that you check out www.woc2019.no/overnatting or that you contact spectatorrace@woc2019.no by email.