Tove Alexandersson (26) dived over the finish line and went down totally exhausted for two or three minutes after WOC gold number two on Friday.
Alexandersson had to fight for every second against Swiss Simona Aebersold throughout the entire course.After having overtaken the lead at the first leg of the second short round after the arena passage, Tove pushed to the maximum to stay clear with a margin of five seconds. This means she now has nine WOC gold medals to her merit.
- I've never seen Tove that tired, arena announcer Kjell Erik Kristiansen said. He has seen Swedish super star in numerous competitions over the last decade.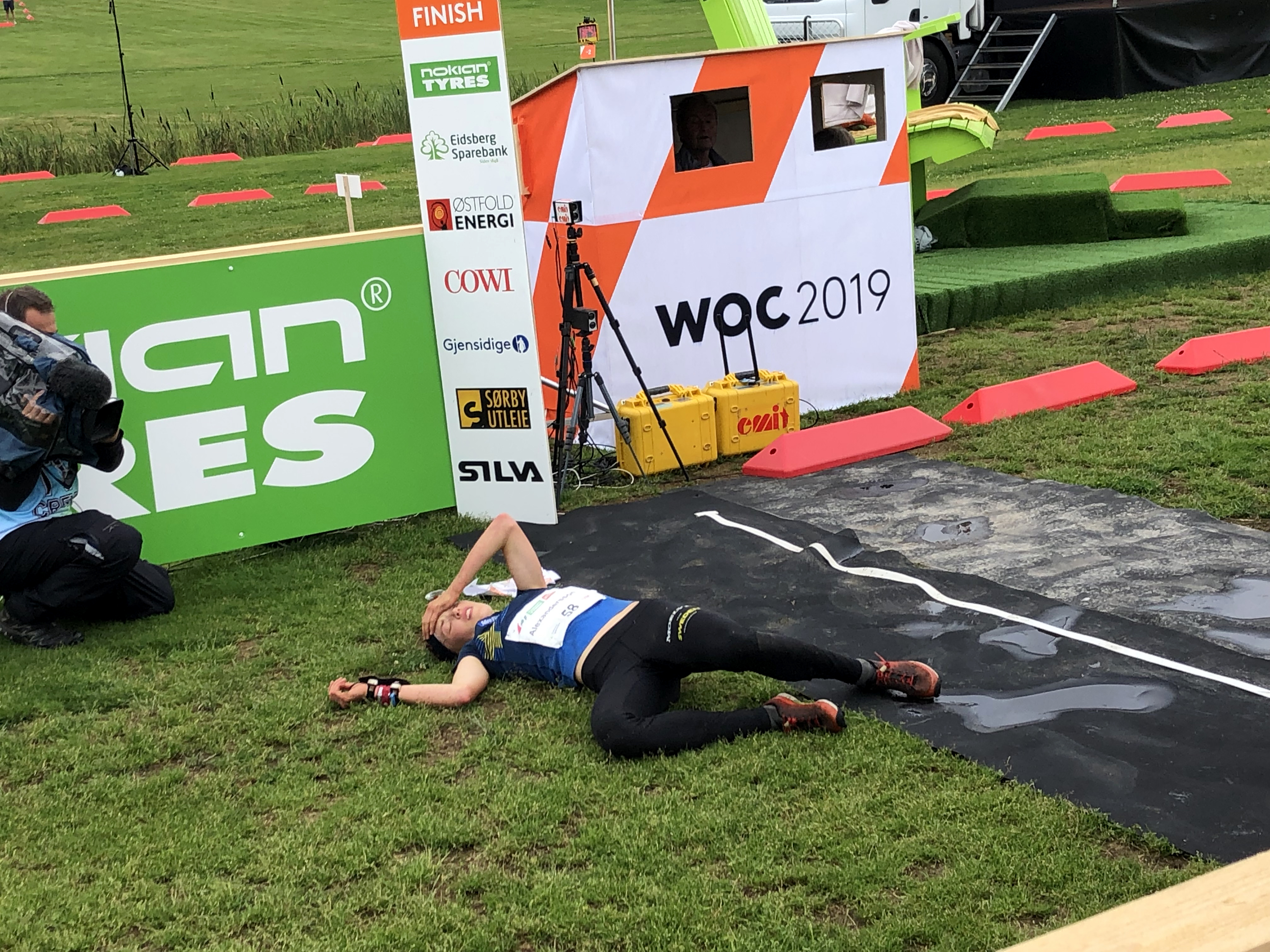 First year senior Aebersold arrived for a solid lead from an early start position, and she hoped for a gold medal to the very end. Nevertheless, she followed up on a strong performance at Wednesday's long-distance by bettering from bronze to silver today.
Nearly two minutes behind the fight for the gold an even tighter fight for the bronze took place:
In the end reigning champion from Russia Natalia Gemperle and Finland's Venla Harju shared the bronze medals. The duo were two seconds clear of Norway's super veteran bronsen. Duoen var to sekunder foran Norges superveteran Anne Margrethe Hausken Nordberg a further three seconds ahead of Swiss Sabine Hauswirth and seven seconds ahead of Wednesday's silver medal winner Lina Strand from Sweden.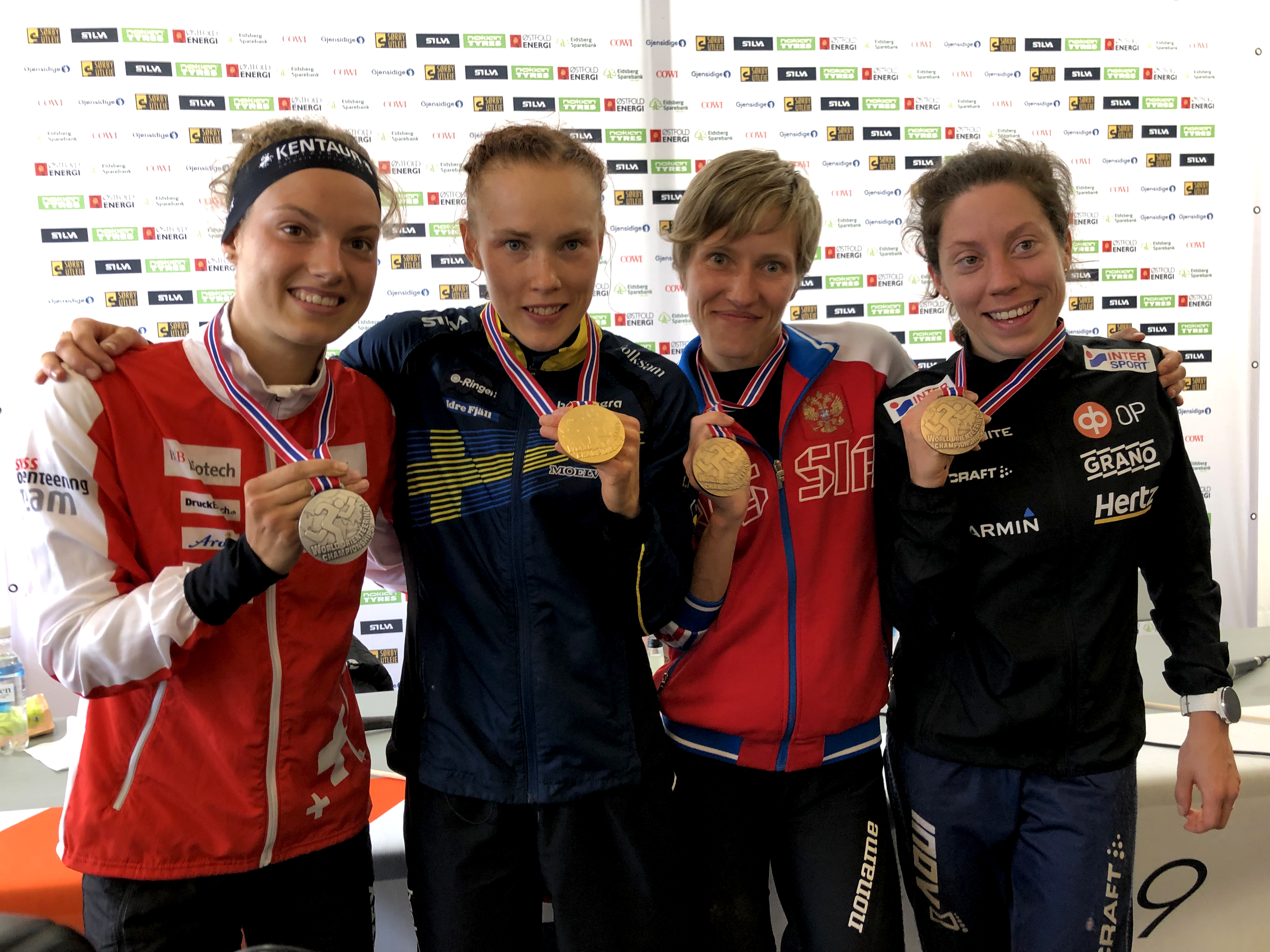 The medal winners: (From left) Simona Aebersold , Tove Alexandersson, Natalia Gemperle and Venla Harju.
At the press conference:
- I'm used to giving it all at the end of my races, but I'm seldom more drained than today. The race was good, and it was all about fighting in the end, Tove Alexandersson said.
- Unbelievable! If anyone had told me last year that I'd even compete at WOC 2019 I reckoned it difficult. And now I have two medals! I'm so happy for the silver and not sad at all missing the gold, Aebersold smiled.
- An OK racewith a few minor mistakes Harju said about her bronze medal race.
- I tried to be more aggressive today and attack the terrain more, Gemperle told about her tactic.
Anne Margrethe Hausken Nordberg probably lost five seconds – and her medal chances – inside the golf course when entering the spectator control wrong. However, she seemed to be fired up by the mistake and ran faster than Tove on the last lap.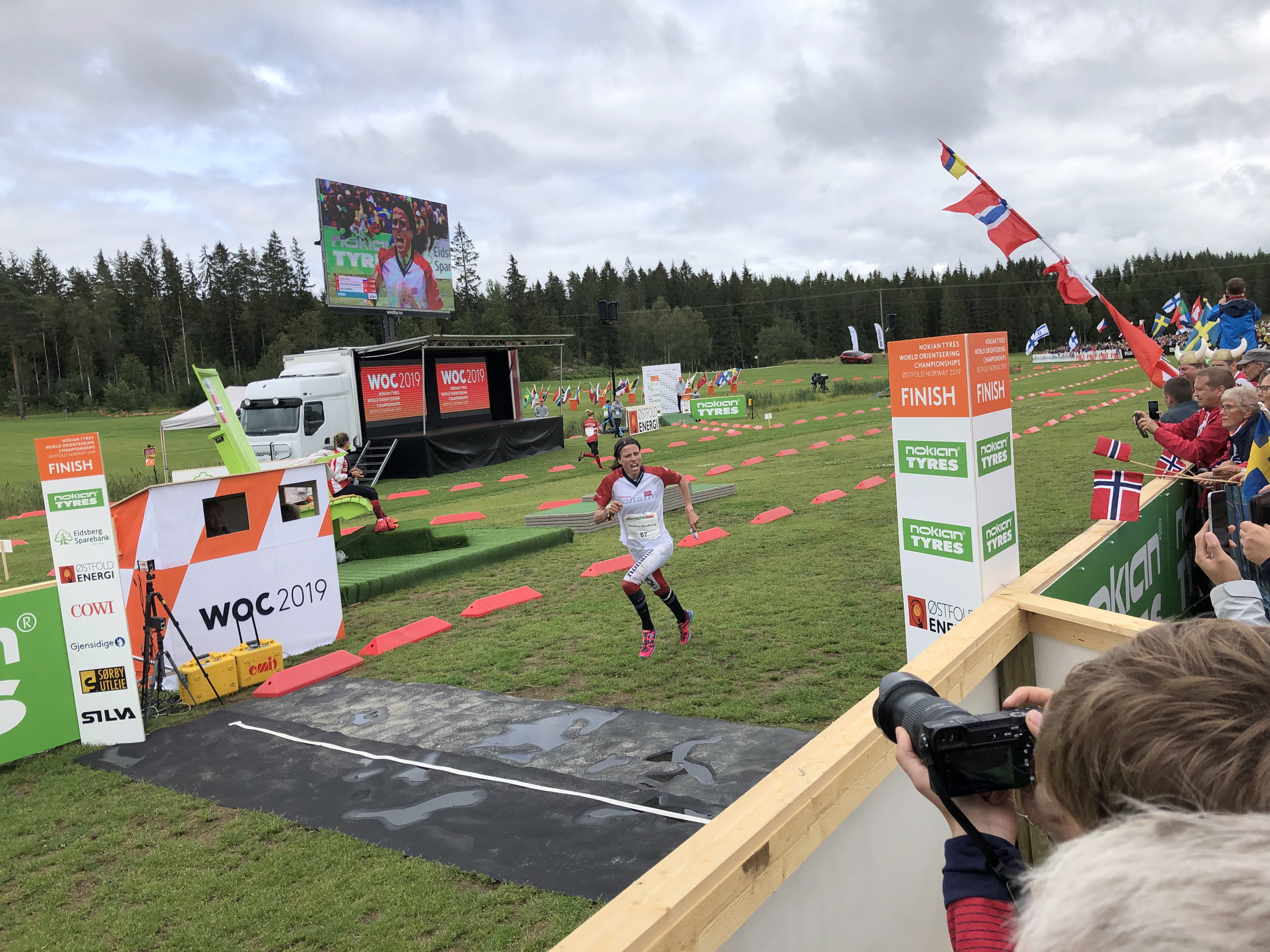 Anne Margrethe Hausken Nordberg gave it all, but came in two seconds late for the WOC Medals